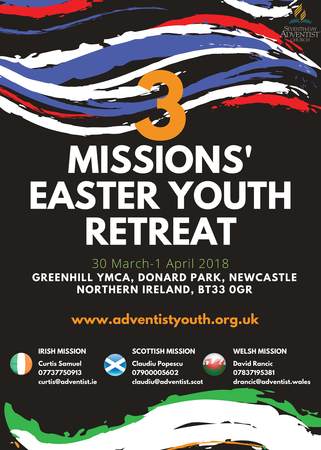 The 3 Missions youth weekend is back in 2018 and will be hosted by the Irish Mission!  Taking place from 30 March - 1 April 2018, the weekend will include inspiring worship, a special speaker, fun and fellowship, games and organised activities.  It's going to be a great one and you won't want to miss it! The registration form is below and you can pay online here too.  It costs £85/€90 per person. Early payments will guarantee your place on the weekend!



Location

: Greenhill YMCA, Donard Park, Newcastle, Northern Ireland, BT33 0GR.
Programme

: as soon as we have this we will post it here - watch this space!
Activities

: There is a huge choice of activities, and each person may choose a maximum of two.  Activities are run in small groups and are therefore subject to availability. Early booking payments may increase the chance of being able to do your choice of activities!
Click here for full details of the activities.

Travel arrangements: please speak with your regional youth sponsor for the details.
Curtis Samuel: 07737 750913  curtis@adventist.ie
Claudiu Popescu: 07900 005602   claudiu@adventist.scot
David Rancic: 07837 195381   drancic@adventist.wales
Keep up to date with information on this page, or follow us on

Facebook

for more info.

Register & pay now!
(When you have completed your payment please send a copy of your receipt to bucyouth@adventist.org.uk specifying the name of the person you have paid for if you are not paying for yourself.)